Balance Sheet Builder
Build your Balance Sheet in minutes. Prepare financial statements for Indian Companies as per Non-Ind-AS, Schedule III format. From Data import to PDF export, this Excel application automates each step of building your financial statements.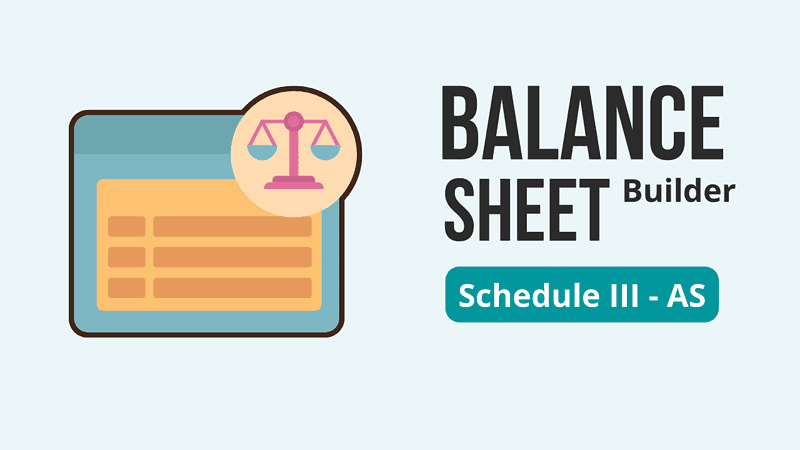 Balance Sheet
Create companies' balance sheets in minutes. Never spend time tallying your Balance sheets.
P&L and Cashflow
Get Instant reports on profitability and cash flow. No need to manually tally your Cash Flow Statements.
Notes
All Relevant Notes and disclosures as required by the Indian Companies Act are automatically populated.
Accounting Policies
Ready-made template for all the Significant Accounting Policies applicable to the company.
Revised Schedule III
Latest Format for Non-Ind-AS Companies. Division I of Schedule III of Companies Act 2013.
Year Change
Single click change of Financial Year. Automatic shifting of data to previous year columns.
Tally Import
Import all the ledger balances from Tally in a single click. Auto Grouping of ledgers based on Tally Groupings.
PDF Export
Export the Financial Statements in PDF format with automatic page numbering and layout settings.
Rounding
Round all the amounts as per Schedule III. Rounded Totals are accurate to each decimal point.
Rounding
Suggests Rounding options as per Schedule III and according to the current profits of the company. Rounded Totals are accurate to each decimal point.
Ledger Groupings
Specify the type of ledger, such as an asset, liability, income, or expense, and then assign primary and secondary groups based on Schedule III of the Companies Act. If you're importing ledgers from Tally, it automatically fills in the primary groups for you. It also alerts you of any differences in the Balance Sheet.
Finalisation Entries
Make necessary adjustments, such as regrouping balances between current and non-current categories and other adjustments like tax and depreciation. It simplifies the year-end closing process by providing an easy way to pass all the finalisation entries for your financial statements.
Frequently Asked Questions